Embrace the New Year with Heidi and Michelle and our theme: 'From Nature, Draw Strength for the New Year.'
As we settle into the natural beauty of Valais, Switzerland, let the serene mountains and forests serve as a quiet reminder of your own inner resilience.
As we guide you from December 30th to January 3rd at Hotel Balance in the inspiring landscape of Valais, Switzerland, we'll harmonise our approaches for a transformative experience.
Together, we aim to offer you a safe space to connect deeply with your essence, digest and reflect on the lessons of the past year, and step into your full potential with a sharpened focus on what truly matters, helping you to follow your true path.
We've curated a seamless combination of yoga practices, pranayama, meditation, and group coaching to assist you in tapping into your inner strength and connecting with your true essence. If you're looking for deeper personal transformation, Michelle also offers the option for extra private coaching sessions.
Michelle's expertise in resilience complements my passion for spiritual growth. Together, we've crafted an experience that guides you toward your own power and inner light. Our goal is to help you step into the new year not just renewed, but truly transformed, armed with clarity and direction.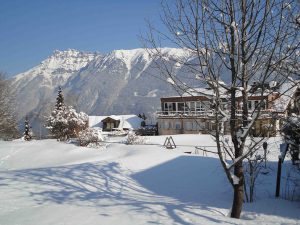 Arrival day 15.00 Check in.
17.00 Meeting, round Circle, Restorative Class
19.00 Dinner
Sunday – Tuesday. 7.00 – 9.30 Yoga: Meditation, Pranayama & Asana
9.30 – 10.15 Frühstück
13.00 Mittagessen
Afternoon: Free time for hiking, sunbathing, sauna, skiing and relaxing
17.00 – 18.30 Restorative Class, Yoga Philosophy, Q&A
19.00 Abendessen
Departure day 7.00 – 9.30 Yoga: Meditation, Pranayama & Asana
9.30 – 10.15 Frühstück
11.00 Check out
13.00 evtl. Mittagessen
Silvester Retreat 2024 Heidi & Michelle for more information click here