Solidarity Bread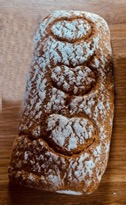 For centuries, bread has been a popular staple food of great symbolic value. Solidarity bread is of high quality: all the ingredients come from 100% organic farming and mixed with great love. Thus, it contributes to the good health of everyone.
From Friday April 24, 2020 and every Friday until further notice, this Solidarity bread will be available in the two bakeries in Salvan. By your visit, you also support ChottaPain and O'Marais.
This food is free in the hope that it will be a vector of SOLIDARITY. To participate in this movement, you can, according to your means, fill the piggy bank directly at the bakery or use the following IBAN:
CH21 0839 0119 4660 0200 0
(Banque Alternative Suisse SA, Roland & Ulrike Eberle, 1922 Les Granges).
All of the money raised will be used as follows:
to pay production and distribution costs
for the support of people who are in great need.
In the spirit of real transparency, the name of the beneficiary (ies) of the money collected will be communicated to the Municipal Council. This principle therefore requires your confidence!
Thank you for supporting this initiative and eat a lot of bread!
Team Balance
"It's not enough to know, you also have to want to.
It's not enough to want, you have to do! "
(Johann Wolfgang Goethe 1749-1832)